Cycling from one major capital to another—when does that become a possibility? That's the beauty of endurance sports; they push you to redefine your limits. My passion for cycling ignited during the confines of lockdown. In the chaos and stress, I yearned for an escape, a taste of adventure, and that's when I fell head over heels for cycling. It became my sanctuary, offering freedom and joy during uncertain times. But as normality returned and more personal and social challenges mounted, my anxiety spiked, making it difficult to enjoy my beloved sport. A knee injury and a harsh winter only added to this struggle.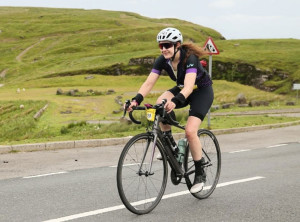 Determined to break free from this cycle of anxiety, I found hope in the idea of an impromptu trip to France. The allure of the route to Paris and how positively the cycling community speaks of it fuelled my desire. Despite wavering confidence and growing anxiety, the support of my friends and family gave me the courage to take the plunge.  While many cyclists aim to complete the London to Paris route in two days (or even one), I chose to approach it like a holiday. At times it feels like we live in this social media age that promotes 'bigger is better'. However, I refused to succumb to that pressure; fun has always been the driving force behind my cycling, and this trip would be no exception.
With only a week to prepare, I immersed myself in planning—researching the route, serviced my bike, bought my ferry tickets and supplies. Stress reached its peak as departure day approached. Despite the mounting anxiety, I intentionally chose to do this solo, seeking the promised freedom and control it offered. This choice came with its own challenges, and I sometimes I worry that my preference for solitude can be mistaken for being anti-social.
The first day was an emotional rollercoaster, with my anxiety soaring. In one week, I would look to cycle over 600km, more than double I had done all year. I worried what impact the weight of the bags would have on my riding skills and how easily I could keep my bike stored safely. Sometimes my anxiety is specific – but quite often it's an abstract sense of 'you can't" or 'don't do this'. It felt like a vice squeezing my chest, making it more difficult to conquer the hills towards Newhaven. However, fate intervened. I met a fellow cyclist en-route and we chatted for hours. This encounter became a recurring theme, as I opened myself up to strangers and embraced the power of human connection. Time flew by, and I reached the ferry with ample time to grab a well-earned lunch. Boarding was easy, the ferry is very comfortable and again I met many other friendly cyclists heading to Paris – all different ways.
Day two marked the true beginning of the adventure. Pedalling through picturesque France filled me with joy. Choosing Vernon as my next stop, I bypassed the Avenue Verte to explore meandering French roads and charming villages. The serenity of the French countryside provided a welcome respite. As the kilometres passed, my anxiety diminished. I found solace in the rhythmic motion of the pedals, the warmth of the sun on my face, and the sheer beauty of the surroundings. The journey became a metaphorical battle, not only against the physical challenges of the road and wind but also against my inner demons. With each pedal stroke, I grew stronger and gained confidence. I was finally having fun again.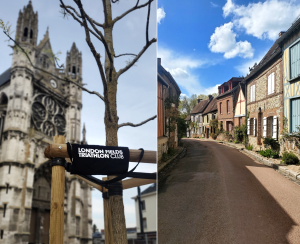 I won't deny that this journey had its share of challenges. The trip to Paris was more exhausting than I anticipated. My body ached, my skin was sore, and the final leg through the city was unnerving. However, arriving in Paris felt like a triumph—a moment of pure elation and accomplishment. I had conquered not only the route but also the anxiety that threatened to hold me back. The vibrant streets of Paris welcomed me, with the Eiffel Tower standing tall as a symbol of my journey's culmination. And my ultimate reward? An insatiable appetite in this culinary capital.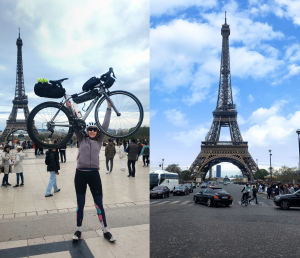 Leaving Paris filled me with anxiety. Departing from the bustling city proved challenging, especially on rain-soaked cobblestones and reckless driving added to the fear. Thankfully, I foresaw this and detoured off busy roads early, opting for the tranquillity of cycle lanes. This added hours to my journey but offered a peaceful respite on the way to beautiful Chantilly where I had the pleasure of touring the famous castle and admiring horses.
Day two of the return trip proved to be the most gruelling. I faced a daunting 90-kilometer uphill battle, with a relentless headwind. Mother Nature had additional surprises in store. Just 5 kilometres from my lunch stop in Beauvais, a sudden hail storm battered me (literally) and I took refuge under a stranger's home. It was undoubtedly the lowest point of the trip—I was tired, shivering, and still had a long stretch ahead. But I pressed on, knowing that a secluded and homely B&B in Normandy awaited me.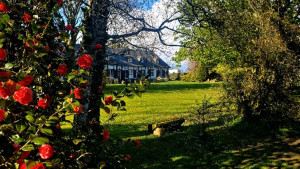 On Day three of the return, I began my journey back to Dieppe. I faced a tough decision—should I brave the bone-chilling cold or wait, knowing that would likely bring rain? I settled for a middle ground but encountered an unexpected setback when I discovered a serious tear in my bag. Remembering my promise to myself to seek help when needed, I reached out to my gracious B&B host, who came to my rescue and sewed it. As long as the bag held together, I didn't care about the weather. And indeed, the heavens opened up, but to my delight, I finally caught a powerful tailwind. The final 40 kilometres on the Avenue Verte, however, presented it's own challenge—it was cold, wet and covered in plant debris. I acknowledged that April might have been too early for this trip. Upon arrival in Dieppe, I settled in for the night.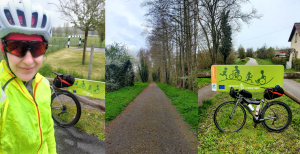 I had the day to enjoy Dieppe and I set off (on foot!) to find a very quaint coffee shop and met a wonderful Scottish girl named Leonie. She graciously showed me her favourite spots, and we chatted for hours. It was a true embodiment of the saying 'strangers are just friends we haven't met yet'.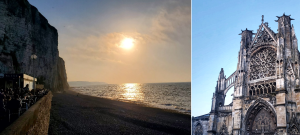 As the darkness rolled in, so began my long journey home with a midnight crossing. Despite noisy children and freezing air conditioning, I miraculously caught some sleep. With a 5 a.m. arrival in Newhaven, I headed straight for McDonalds in hopes of pick-me-up coffee (which was shockingly better than most I had in France!) Energized, I embarked on the final 100 kilometres home, essentially retracing my route out.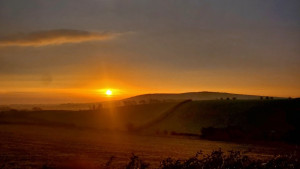 A glorious sunrise welcomed me, and I felt embraced by the South Downs. France had been beautiful but also quite lonely. My limited language skills made it harder to communicate in an already reserved and private nation. Yet, exploring it by bike allowed me an intimate experience with a country I had only superficially known; I will forever cherish that opportunity. I started the journey with the flexibility to quit if needed, but as the end neared, my determination to finish grew stronger. The endless 20% gradients on the way home couldn't tempt me to catch the train; not even a broken bag that forced me to repurpose my heart rate monitor as a strap could deter me. One pedal at a time, I could see the familiar landscapes of London unfolding—I was close. The biggest cycling loop of my life was nearing completion.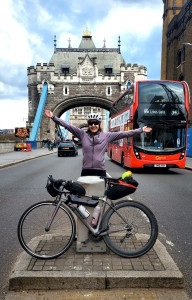 Only finishing did I truly grasp the magnitude of what I had accomplished. I kept my challenge private to make sure I did this out of choice and not obligation. I left London quite anxious but I returned feeling calmer, happier, and confident in my cycling abilities again. While I'll proudly shout I cycled to Paris and back all by myself, I quickly realized that the true measure of success lies not in the outcome but in that moment I decided to try. No Strava metric can capture the strength it took to set out on my bike when anxiety gripped every fibre of my being.
I have no doubt that my anxiety will resurface, but when my intrusive thoughts attack, I will look to combat them with the memory of what I achieved; what I overcame. My anxiety may dwell on the bad, but I now have a powerful reminder of the immense good that can happen when we embrace uncertainty and dare to try.
You can see the full journey on Komoot: