Last weekend Ruth Ashton continued the LFTC tradition of girls cleaning up in races. Ruth won the Stowe Middle Distance Triathlon with a time of 05:11:57. She was in fact 10th overall. Impressive stuff Ruth (and Diot – small dog on the podium)!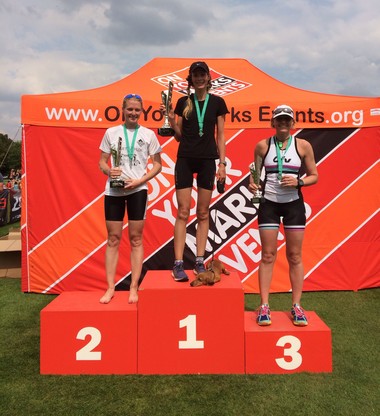 This weekend we have Gabriel Sayer, Abigail Swales, Simon Brader and John Kennedy taking on Ironman UK in Bolton. Race well team! Rest assured we will be following your progress and sending you positive vibes all day. This week is also Challenge Roth, arguably the most famous long distance triathlon outside of Kona. Both men's and women's fields are stacked so it should be a great race.
Alistair Brownlee is finding some form again, he took out the latest ITU World Championship Series race from Hamburg last weekend. Gwen Jorgensen won the women's race, her fourth win in a row! On Tuesday nights we have been discussing running technique at our track sessions. Take a look at Gwen Jorgensen, she is a phenomenal runner, from a front on view you won't see any wasted energy even as she fatigues at the end of the race. If you would like to copy someone's body position as they run, you could do a lot worse than copying Gwen Jorgensen.
The ITU World Championship Series event in Hamburg also featured the mixed team relay event. This is a format of racing that I would love to have a go at. Sometimes I find it hard to push myself to  the limit but racing in a team would certainly give me the motivation to go all out! Team GB had a formidable line-up and although they were pushed hard they came out on top in the end. Anyone up for the national club relay championships? Supposed to be a good party!
Good luck to everyone racing this weekend. And if you are not racing then make sure you come down to the Lido for a bit of swim practice before we head back to West Res next weekend for our Sunday morning open water sessions. See you soon, Tim (LFTC Coach).