How about Fran.
Finding a free slot in Fran Brown's immense training schedule is a modern rarity, and after a week of back and forth emails I finally found a moment to catch up with the Team GB Paralympian and get a get a glimpse into her journey since she began triathlon in 2021.
As I tap her number into my phone, I can't help but feel, what I can only describe as, 'passively excited', joyous for Fran and this tremendous achievement that she has carved out for herself. As I tap her number into my phone, I expect to be met with a similar excitement, but Fran is a professional – the very definition of composure. During the forty minutes we spend talking, whatever her internal dialogue might be saying, her voice gives nothing away. Instead, I can only feel a sense of certainty in the way she recounts the last few years and the magnitude of what she has achieved in such a short space of time.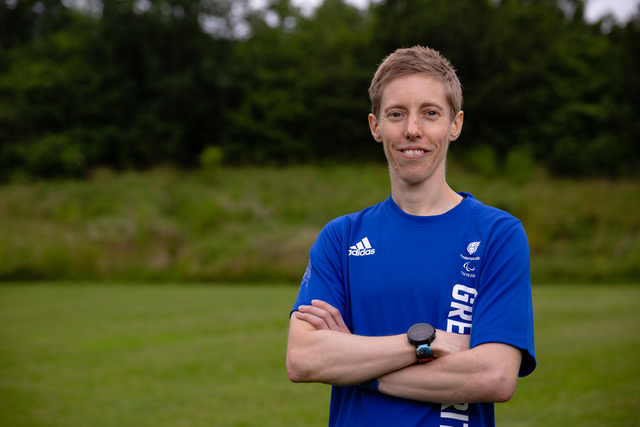 How it started…
A spinal cord injury in 2006 left Fran with limited hand function and weakness in her legs, an incomplete tetraplegic. She was already an avid climber and came back to the sport and the same social circle and competed as a para-athlete, using swimming to cross train. At the time climbing wasn't an Olympic sport and after watching the triathlon in the 2012 Olympics, she set her sights on a challenge that had a path all the way to the pinnacle of international sport. She was already an adept cyclist, working through the full spectrum of a handcycle, racing wheelchair and finally a bike which she now rides with leg braces. The last piece of the puzzle was running. Finding the right equipment for her disability made this more difficult to progress than the two other disciplines. Four years later, from starting with crutches, her running was in a place where she could race competitively, winning the PTs2 class at the British Triathlon Championships in 2016. It was there that she met a few athletes who were headed to Rio that year and, full of inspiration, she contacted British Triathlon to put her name on the map to be considered for Tokyo.
Fran had a commendable career as an amateur athlete with various successes and at the end of 2016 she turned her focus to attending a Talent ID Camp hosted by British Triathlon in the coming year. She was already a member of London Fields Triathlon Club having seen online that they welcomed para-triathletes, attending mostly swim sessions and weekend club rides and preferring to work on her running individually. The hard work and daily grind paid off when Fran received her invitation to a weekend of performance testing amongst equally accomplished para-triathletes. Naturally, she was ready.
How it was going…
Fran's triathlon career quickly progressed after the 2017 trials, she was moved onto the development programme and establishing herself as a real contender in the sport; coming second at the European Championships that year and third in the World Championships shortly after. She brushes over these achievements quickly as if not to dwell on the magnificence of it all which only amplifies her modesty. I assume it seemed obvious to British Triathlon that Fran was one to watch, quickly upgrading her to their funded programme. Back then, Fran was a physiotherapist by day and a para-triathlete in every other spare minute. It takes more commitment and sacrifice that one might think to manage a full-time job and train to a level where a professional career becomes a real possibility, and being a paid athlete allowed Fran more time to train properly and get the rest and recovery she needed to evolve to gold standard.
The following two years undulated between relocations, training and international races, all culminating to the progression she was working towards. Much of 2018 was spent in Loughborough where Fran briefly relocated to be nearer to her coach and a proper centre. Just shy of a year later, she was back in London and dipping in and out of club sessions as she'd missed the community and bants. This is the only part of the interview I truly related to (considering I'm speaking to a Paralympic Qualifier who was headed to a two-hour swim session and I had binned the pool off that morning for coffee and a large pastry from my local bakehouse). Clubs do provide camaraderie, entertainment and friendly competition and are a great way to meet people and enjoy all the elements of triathlon, so I can see why Fran missed it!
She brought home four medals that year, including a gold and 2019 looked much the same, apart from a small, but dramatic, unfolding of her and her a bike which took her out of an early season race in Montreal. She recounts this incident resentfully mentioning the word 'dragonfly' and swiftly following up with an amused 'don't ask' – I don't, but I will think about this for the rest of my life.
A few months later she placed second at the ITU World Cup in Tokyo, a test event for the Paralympic selections, climbed her way around a hilly course to win the ITU Grand Final in Lausanne soon after and finished the year with another win at the European Championships in Valencia. I'd like to note that whilst I'm scrolling down Fran's World Triathlon profile, the woman has done nothing but podium in her racing career! The call came after her Swiss win that brought her work and dedication into one incredible opportunity.
How it got totally derailed…
With a golden ticket in her pocket, 2019's off season was spent planning the road to Tokyo and Fran headed to Spain at the start of 2020 for a nine-week training camp. Five weeks into it, COVID-19 was in its early stages and, as it rapidly swept the globe, the decision was made to fly home – narrowly missing the travel deadline of Boris's Great British Lockdown.
We move onto her experience of the pandemic and her tone bears an underlying frustration as Fran shares the struggles and challenges that 2020 presented her with. As soon as she touched down in the UK, she went into shielding and the subsequent months wrote off a significant part of her Paralympic preparation.
Fran's injury meant that coughing was a no-go. Even with British Triathlon's provision of equipment so that their team could train at home, her vulnerability confined her to a turbo and a treadmill, missing out on any training in the real world that her counterparts continued to enjoy. Never-the-less, she stuck to her prescribed environment and continued with her plan which met more complications when her Crohn's Disease became more prevalent. Crohn's is a lifelong disease which causes inflammation in parts of the gut and digestive system, taking a hit on general health and causing pain and discomfort. Whilst is very manageable with lifestyle changes, nutrition and medication, it can flare up with increases in stress. As you can imagine, a global pandemic, isolation, an intense training plan and the pressure of the Paralympics don't result in a 'zen' individual and Fran's roadmap was further derailed. She describes this time as "being in the best shape of her life, to being extremely unwell very quickly". For all of us 'A-type' personalities (which seem to be abundant in the world of triathlon), not seeing progression from your work and effort can feel disheartening but seeing yourself slip into regression and powerless to do anything is defeating. In August, Fran went into surgery to have part of her gut removed, another blow to her efforts in maintaining her already impacted fitness. The recovery of this threw her Paralympic confirmation in complete ambiguity and she and British Triathlon questioned if she would have enough time to return to the performance standard needed for the, now delayed, 2021 start line.
Although we are only on the phone and are, at best, acquaintances, it is hard to listen to Fran's retelling of this period. I instantly think about every time I came down with a sniffle, and how irrationally upset I would be about being unable to train for a few days (if I'm honest, I trained anyway). Listening to this was like being beaten senseless with a steel rod of perspective. We throw the word 'challenging' around a lot but what Fran experienced in 2020 is what that word should be saved for.
How it came back…
In October 2020 things finally turned around and the horizon began to look much brighter. Post-surgery, Fran's health was slowly gaining back its strength and with it, her training. We often fear 'detraining' more than we need to (although I'm certainly not trivialising her earlier 2020 ordeals), the build back to a standard we were at can bounce back quicker than we think with the right coaching. For Fran, she found her body responding well and her fitness following suit. She briefly talks about training with her husband which I echo and comically digress to the daily games of 'Human Tetris', figuring out how to navigate a confined space with another person all day every day – and I wasn't even shielding!
After being vaccinated, Fran resumed her training in the outside world and took a chance to prove her British nationality by commenting on the disappointing weather than has graced the UK this Summer. Having been shut up indoors a year ago when England became Barbados to finally being released into the coldest May on record was probably not what she was hoping for! Not exactly the 'warmer conditions' that she will content with in Japan – which is why the team are all headed into 'heat acclimation training' this month to prepare for the torturous humidity that awaits them. But it's not cycling and running that concern her, "I hadn't swum for 14 months!" she exclaims in disbelief, recognising that when pools reopened in April, she only had 16 weeks to get swim fit – to Paralympian level. Unfortunately, she had to wait as long as anyone else did to access a pool, even the Aquatics Centre weren't opening up for Team GB. I resist the temptation to crack a joke about Lucy Charles and Endless Pools, but I bite my tongue. Thankfully, Fran is a natural swimmer and I have no worldly doubt she's bouncing back in the pool as successfully as she has in her two other disciplines. What astounds me more is that she has known about her presence in Tokyo for 18 months now, it's an awfully long time to wait in anticipation. Many athletes have shared their experience of this and the pressure that came with it and I suddenly feel intrusive when I ask her how she's feeling about the race.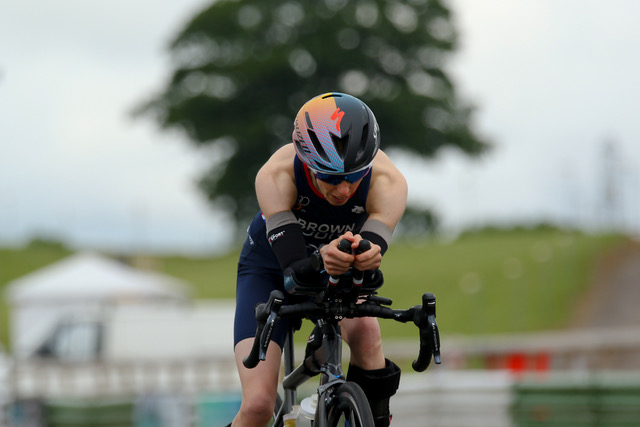 How are you feeling Fran?
"No expectations" are the first words that follow my inquisition. As I said before, she's extremely composed, but there is a genuineness in her response that, oddly, assures me. I don't need assurance, but listening to her journey, hardships and accomplishments have made me feel somewhat attached. We retrospect on the women's individual race, which started on the back of a typhoon, a reminder from Fran that there is little point worrying because you can only control so much. She continues to tell me that around 25 athletes didn't finish and there were probably a few mishaps that the media didn't capture as they only focus on the front pack. I, naively, hadn't thought about this, but it drives her point home. COVID also plays a part in impacting the experience and she does sound disappointed about this, giving one example that the community element will be missed this year. Athletes are not allowed to enter The Village until five days before their event, so the social side that they all look forward to and, to an extent, takes them away from the high-pressure zone of the competition, won't be the same. There is a pause before Fran's tone brings back it's natural optimism and she finishes with – "you just have to treat it like every other event and enjoy it when you're actually there".
Fran flys out on 24th August with eight of her fellow GB team, ready to toe the start line on 28 August at 6:30am (local time). All of us here in the UK can tune in at 10:30pm (BST) on 27th August and watch her live. She will compete in the PTS2 category and we will be cheering her on from the side of the world! This is such a monumental achievement and we wish her the absolute, very best for her competition.