As a triathlete you may have a larger environmental footprint to other less active individuals. You'll probably own more kit, do more washing and eat more food. On 20th August LFTC hosted a Sustainable Triathlete Ride. Stopping for cake, we discussed how to reduce our environmental and climatic impacts through the purchases and actions we make as an aspiring athlete. This summary of what was discussed on the day can be used as pointers to being a sustainable triathlete.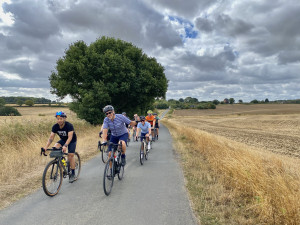 Kit Purchases
The most sustainable piece of kit you have is the one you don't own. Do you have one already and does it do the job? If so, you probably don't need another. Take Patagonia's advert in the New York Times, 25th November 2011, for example. This actually rocketed their sales and brand identity as a major sustainable clothing player. Something founder Yvone Chouinard didn't want to achieve.  
Take time to research the product and the company you are buying from. Do they make a big song and dance about their sustainable credentials? Clothing and equipment take a lot of energy and water to produce and championing the companies which are lessening their impact will help these companies grow. It will also make other companies follow suit. 
In the book We Can't Run Away From This, ultrarunner Damian Hall examines the impact of running in our climate and ecological emergency and gives ideas about how to live and exercise more sustainably. Use the code WCRAFT20 to get 20% off, thanks to LFTC member Matt Hearn for this. 
Look out for key metrics about energy and water consumption, and recycled and sustainably sourced materials, such as Oeko-Tex Global Recycling Standard (GRS) and Global Organic Textile Standard. They may have aligned their business with initiatives like B Corp or follow the Bluesign reporting framework. These alliances show that they are following an international sustainability standard which extends to the raw materials and factories used. They may also donate to climate and environmental advocacy platforms such as 1% For the Planet or Protect Our Winters.
Companies such as Biehler are at the fore of this. Making products to order from Oeko-Tex and GRS materials, they have pioneered a new woven material which is far more durable than the usual bib shorts material. Have you got an old pair of see-through bibs? These shouldn't do that. Their ethos is all about reducing our impact, use of materials and having a few core items which are last. They also have a repair service if something does go wrong which many good sustainable brands do. Please contact coach Toby Read (tobyread87@gmail.com) for a 30% off code for all Bielher products. 
Back in the day humans didn't have many items of clothing. What we did own was made to last and we fixed it if it got worn out. Yes, sadly some of this sustainable stuff is more expensive but it should last longer. It pays to pay. The chamois, or bum pad, in your cycling shorts is arguably the most important item of clothing you wear after your helmet. Look for a "high density foam," "long distance" or "gel" pad. These will last longer in the saddle and last for more rides than cheaper pads. If your pad has got compressed after miles of use and is no longer comfortable, Presca has a fantastic pad replacement initiative (sewn into any other brand of bibs) as well as making cycling and running clothing. 
For swimmers, Coots are designed and made in Hackney from recycled nylon and come with a lifetime warranty. They'll fix it if it does wear out or recycle it if it does really give up. 
Other sustainably minded cycle clothing companies include: ashmei Attacus, Cafe du Cycliste, Izadore, MAAP, Morvelo, NNormal, Ostroy, Palisade, Pedal Maffia, Possenia, Shutt, Scimitar, Soomom, Spoken Collective, Universal Colours and Velocio.
Clothing Care
Doing all this sport you'll likely need to do more washing. Look into using sustainable detergents such as Smol , Bower or Earth Breeze. These are plastic-free and come in fully recycled packaging. 
Your sports kit is made from plastic and is gradually degrading in each wash, contributing to micro-plastic pollution. Consider using a plastics collector in your washes, such as Guppy Friend or Corral Ball.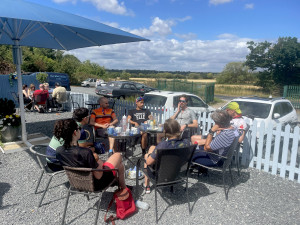 Food
Before, during or after sport, you'll be eating. Who doesn't love a coffee and cake ride? Picture this: a latte is reported to require 200 litres of water to make, factoring in coffee bean production milk production, processing etc. That's almost four 5 minute showers, or about 80 days of drinking water for an individual! Now think about the energy required for roasting the beans, pasteurizing the milk, the emissions from shipping…
Anyway, try to reduce your take away packaging use where possible, buy local rather than packaged and take a keep cup. There are more impactful actions to be made about what kind of food you eat, where that food is sourced from and where you shop but this is a whole debate which we'll leave for now.
When out in nature, make sure you leave no trace. Wrappers can fly out of pockets so stuff them up the cuff of your bibs or zip them into a bag. Better still than buying processed and packaged food, can you make your own?
Recycling and Repurposing
We'll get through kit so what can we do with it when it's unusable or unwanted? Tyres and inner tubes can be taken to bike shops where they will be properly disposed of via council collections. Do not put these in your rubbish. Similarly for worn out or broken bike parts.
If your clothes really have had it, take them to a recycling bank where the material can be broken down and remade into other plastic items. 
If you have useable bike parts you could donate them to a charity such as The Bike Project, which gives bikes to refugees as a mode of transport.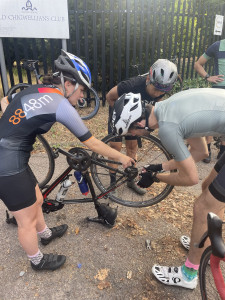 Travel 
There's not much we can do to hide this one. We need to travel to get to and from races. Where possible, keep it in the UK so you don't need to fly. Share cars, take the train. 
If you have any suggestions to include please email lftriathlon@googlemail.com and we can add them to this post. 
______