After 112 miles of cycling it is a relief to get off the bike and do something else. Unfortunately the temptation can be to have a sit down and rest. If you are not worried about your time then sure get some fresh clothes on, have a gentle stretch and chat with the race supporters. Be warned, before you know it ten minutes may have passed by and you will still not have started the run.
The key to your run is starting with a solid bike leg and being sure you have kept up with both your nutrition and hydration. On a hot day the hydration is as important as the nutrition. But don't over do it, hyponatraemia is something you want to avoid (see Tim's last blog post). Get ready for your run in the last 10km of the bike. I always need to stretch my back out and stretch my legs a bit. Remind yourself what you put in your bag, what gels you have got, hat, socks shoes and so on. Finally visualise your T2 and work through the process from entry to exit. If you are racing for time/position T2 should be quick. Your goal is to get out there and start running.
Pacing the run
You will not be running fast! My PB is 3:24 for an IM marathon. This is 7:50min/mile. The fastest AGERs are running 3:05-3:15, most run over 3:30. Your training should reflect this. If you are running for 2.5 hours at 8min/mile in training you might be able to hold this for most of your IM marathon. If you can run 6hrs a week in the weeks 7-3 prior to your race, at this pace, you will be well set for a good run. Running faster than this in your training may not enable you to run more efficiently come race day. Your long run training should reflect your realistic race aspirations and you really need to train at the pace you plan to run.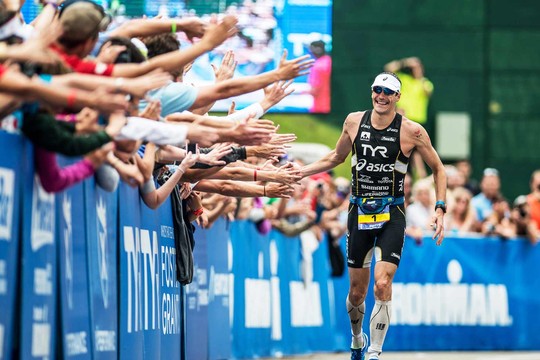 Chunking up the run
How do you take on the mammoth task of completing the IM marathon? I break it down into four 10km runs plus a bit!
I aim to complete the first 10km without thinking about the whole run. I focus on this as I exit T2. The goal is to get it done at target pace. I find my HR is all over the place when I start the run. I try to focus on getting into a good rhythm and usually come out a bit fast. After about 3km I run a full systems check e.g.
Are my legs OK?
Any tight muscles?
Are my socks rubbing?
How hot am I?
What is the weather doing?
Have I hit my nutrition goals?
Do I feel good?
With these answers I can then plan my run. If I feel good then I eat! Nutrition on the run gets harder and harder, so if you can get it down do so! If I am feeling hot then I make sure I get sponges at every feed station, look for the shade all the time and think carefully how fast you are going. You need to keep your heart rate down and fluids in. Taking time at the feed stations to get your fluids in and to cool your body will pay dividends later.
Resist the temptation at this point to chase those faster than you. It is not time to race yet!
Once I get to 10 km I will have a good idea of how the run will go. My next focus is to get to half way. I aim to keep my goal pace e.g. 8min/mile. I will focus on nutrition and hydration. This section should be all about focussing on maintaining a steady pace. Again I run through my checklist. At this point you will usually find others to pace off. This can help you through to your next milestone.
Halfway in the marathon is often said to be halfway in the race and there is some truth in that. For most athletes somewhere between mile 13 and 20 is when the race really bites. This is usually because your glycogen stores are getting low, your starting to overheat and are hitting the limit of your endurance. To avoid this you need to travel back to miles 2-13 and make sure you took on you nutrition, controlled your effort and drank enough fluids. If you did not do this then the chances are it is going to get a lot harder.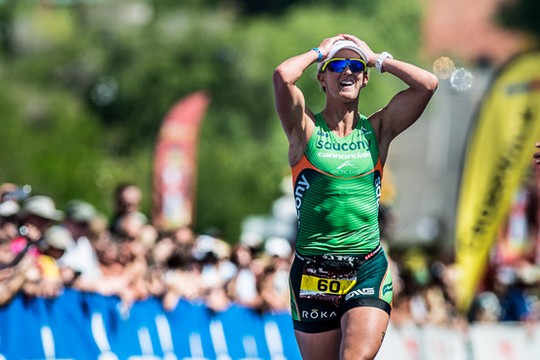 The Dark Place
Expect it, plan for it and do your best to avoid it! At some point in your race it is normal to find yourself questioning your sanity and wanting to stop. The combination of extreme fatigue, low blood sugar and what seems like an impossible task still outstanding can threaten to break you. This is the time to draw on all the reasons why you race. Remind yourself of all those hours spent training, the hours spent dreaming, the messages of support and anything else to distract your conscious mind from reminding you how far you have to go and how much you are hurting.
It is also important to keep eating, your taste buds will be sick of gels but if you can keep plugging away at them then do so. It is also OK to eat just about anything that appeals. You need to get the calories in and sometimes something different will help. If it is really bad then commit to walking through the feed stations while you are actively eating, drinking and sponging. Soon as you are done get running again.
The Final Lap/10K
When I get to the last 10km I know I am going to finish. I have a regular 10km run around Vicky Park and I simply visualise myself running this. When my mind wanders back to the dark place I bring myself back to this run and visualise myself running it like I have many times before. Just focus on running from one aid station to the next. Soon you will be into the last 3km and it is time to shut it all out and run through to the end.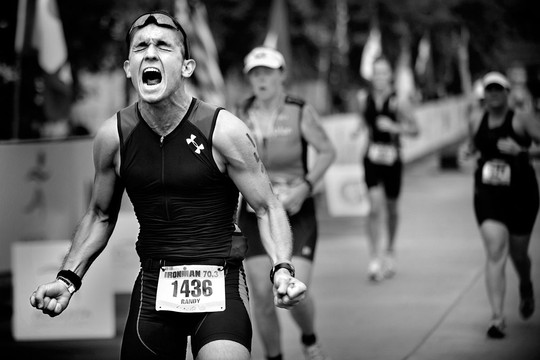 Finishing
Don't forget to come off the main route and enter the finishing chute come the end!
For your first time IM, unless you are gunning for Kona or near a major milestone e.g. sub 10hr or sub 11hr etc., don't bother racing up the finishing chute. You want a good finishing picture without some random Dutch bloke with his hands outstretched obscuring your face. Check behind you, wipe the saliva and snot off and put your biggest smile on as you finally get to end the pain… Oh yeah and you are an Ironman!
If you are racing for a slot or time the last 3-5km are where you can make up a whole heap of places and time. If you can find your rhythm you can be surprisingly quick. Keep pushing and see how many competitors you can tick off as you run towards the chute (you can usually tell by the number of coloured bands on their wrists).
And that's it. Simple really! Check out my blog for more training and racing related info. All the best with your training, Gabriel.